Our Staff
Dr. Jim Goebel
Senior Pastor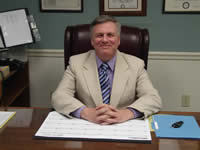 As Pastor it is my great pleasure to invite you to join us every Sunday morning where you will be encouraged to grow in the knowledge and admonition of the Lord Jesus Christ. First Baptist Church is a unique and loving fellowship that has something for everyone. Our focus is to minister to the whole family in the body of Christ with a heart to reach the lost and broken-hearted with the Gospel, while cultivating a deeper relationship with Jesus through service in a variety of ministries. We believe that serving the Lord and winning souls is not only our obligation, but also our sacred devotion and personal joy. Please take some time to explore our web page to see the exciting life changing opportunities that await you here at First Baptist Church remembering the words of the apostle Paul:
"For it is God which worketh in you both to will and to do of His good pleasure. Do all things without murmurings and disputings: That ye may be blameless and harmless, the sons of God without rebuke, in the midst of a crooked and perverse nation, among whom ye shine as lights in the world: Holding forth the word of life: that I may rejoice in the day of Christ, that I have not run in vain, neither laboured in vain. Yea, and if I be offered upon the sacrifice and service of your faith, I joy and rejoice with you all. For the same cause also do ye joy, and rejoice with me"-Philippians 2:13-18.


Sandra W. Mauney
Music Director/ Worship Leader
Raised in the Wesleyan Church, Sandra has been serving churches in a musical capacity since she was 12 years old. Over the course of her life, she has served a variety of churches of various sizes in the roles of organist and choir master. She did so as a passion while working full-time. She recently retired as a Senior Vice President with Davenport and Company. Sandra enjoys a variety of styles of music and we look forward to her gifts to be shared in worship. She is a member of the American Guild of Organists and in 2010 completed a rigorous 2 year ecumenical music program called, The Leadership Program for Musicians. Sandra lives in Providence Forge with her husband, David. She looks forward to "leading the peoples' song" for us.